At birth, Freddy was the runt of his litter. Now he is top dog after officially becoming the world's biggest canine.
The great dane stands 2.3m on his hind legs, taller than basketball star Steven Adams whose height is 2.13m.
He also towers above his owner Claire Stoneman, who is only 1.6m.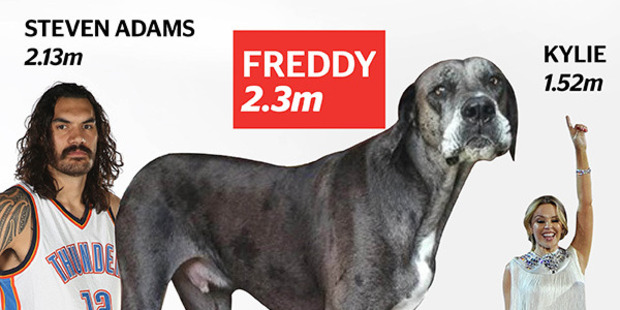 He has an appetite to match his stature, devouring entire roast chickens in one sitting. And several sofas have been torn apart by the 92kg pet during what could be described as horse play.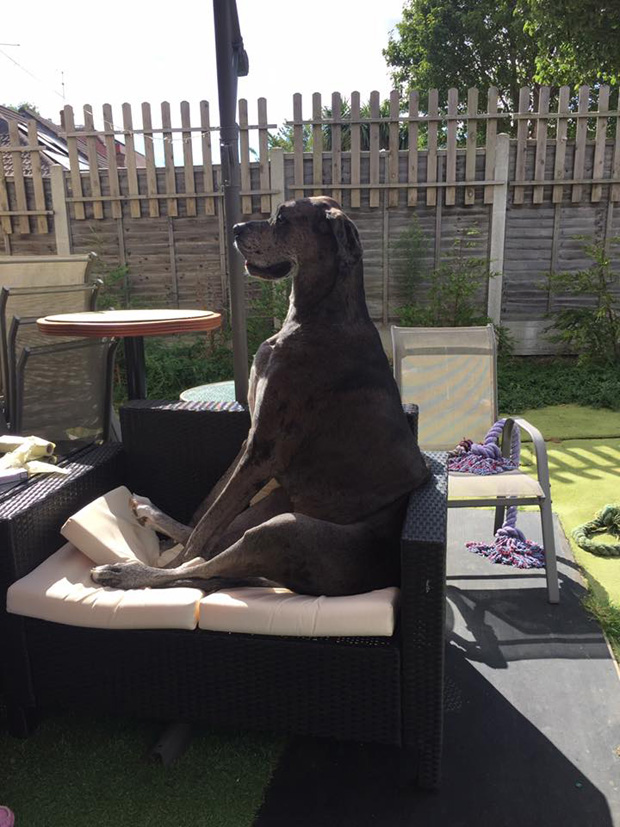 The 4-year-old and his sister, Fleur, live with Stoneman in her detached house in Southend. She said that having the two didn't leave much room for a man in her life.
Stoneman, who has been single "for the best part of four years", said: "They're my life. Everything I do revolves around them. I spoil them in the way I would spoil children."
Freddy's bad habits include drinking from the kitchen tap. And he loves to sprawl on her sofa, leaving her no choice but to perch on a foot stool nearby.
Walks are a problem because she can't allow him to come into contact with any other dogs who might be intimidated by him – or catch his eye.
"If he wants to run after a dog I wouldn't be able to stop him," said the 41-year-old, who often takes him out in the small hours to avoid these encounters. Stoneman, a former model who now runs a fleet of taxis, said Freddy and his sister cost an eye-watering £12,500 ($22,300) to look after each year.
In September Freddy was confirmed as having reached 40¾in from his paws to his withers, the ridge between the shoulder blades. He has now claimed the Guinness World Record previously held by Zeus, a great dane from Michigan, who measured 44in but died two years ago aged 5.
Published By http://www.nzherald.co.nz/lifestyle/news/article.cfm?c_id=6&objectid=11770309